iPad Magician at EEMA EEmagine 2014 Kochi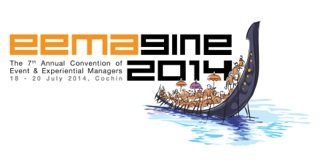 iPad Magician Keelan Leyser flew to Kochi in the South of India to perform his brand of iPad Magic representing Black Hat Talent .  It was a great event for Keelan because not only did he meet the the who's who of the Indian event industry he also met up with so many friends that he has made from his 150 plus shows that he has done in India while performing his Quick Change Act .
Keelan entertained and amazed everyone at EEMA while pulling the EEmagine EEMA 2014 logo right out of the iPad aswell as a few Digital mind reading surprises along side Keelan's standard iPad Magic routines.
EEMA 2014 was held this year in Le Meridien Hotel in Kochi which was a stunning hotel set with a beautiful river surrounding it. Keelan arrived on the 17th July after a long flight via Mumbai and then on to Kochi. Keelan performed his iPad Magic on the 19th July during the exhibition also during the evening dinner period after the main stage show.  On the 20th Keelan demonstrated his diverse Digital magic skills by showcasing all the types of devices Keelan works with, Ipads, Smart phones, Windows devices, Android devices, screams of amazement was heard all around as objects were pulled in and out of the screens.
Keelan sends out a big congratulations to all the award winners!!!