Close Up Magicians
Having a Close Up Magician at your event can transform your event from something even more spectacular, giving you guests a talking point, an opportunity for them to break the ice and also it's just a great way to entertain them.  You will love to see the expression on their faces when they witness the incredible Close up magic of Keelan Leyser or one of his team of UK magicians.
Close up Magicians are not only popular at corporate events, but also extremely popular at wedding receptions and wedding breakfasts too. Having a Close Up Magician during those times sometimes relieves the 'dead time' when the guests are just mix and mingling. The close up magicians will interact with your guests but showing them incredible card tricks, amazing sleight of hand pieces, mind boggling mind reading and maybe even a pick pocketing along the way (but will always give your watches back! ) will enhance the day and make it that more memorable! Cheers of laughter and amazement will be heard all around!
If booking a close up magician for your corporate event you need to work out how many guest you have got coming. It's best to have approximately one magician per 100 guests for about a 2 hour time period.  Close up magicians work best performing their magic throughout the drinks reception and in between courses throughout the meal.
Close up magicians and travel.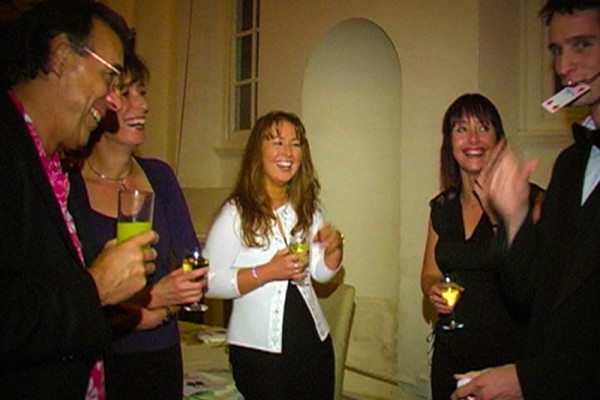 Keelan Leyser and his team of close up magicians are regularly seen performing in and around London, Surrey, Kent and Essex, however they also do regularly perform all over the United Kingdom  and abroad. The United Arab Emirates countries are a very popular destination for Close up magicians. UAE countries like Dubai, Abu Dhabi, Kuwait are regular performing spots for magicians. These cultures love the spectacle of witness something amazing and that is exactly what you get when booking either Keelan Leyser or one of his team of Close up magicians check out the video below.